Sup guys. Have u heard of Hipster Script? OK, u probably heard about it since it won that award, but I was into Sudtipos back in 2003. Now all these Justin Bieber fans r gonna be into it. Ugh. I hate it when other people like stuff I like. They have such bad taste.
So n e ways. Usually anything spit out by a machine is lame, u know? Here's the thing, though, fonts r software, right? Which means they've been spit out of a machine too, just like Ke$ha. But it's not like graphic designers r gonna F'n handletter everything. First of all OMG not every1 is Marian Bantjes. Second there is the foozball championship coming up and we have PRIORITIES, ppl! Seriously, it's all about time MGMT. Third, if the Descendents use fonts on their album covers, then I guess fonts r not really mainstream. Besides, nobody knows n e thing but Helvetica and Comic Sans anyway.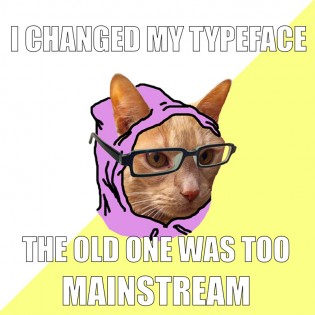 So the thing about Hipster Script is it totally says F U 2 mainstream font stuff and has all these ligatures that r casual n unprocessed. So designers can customize stuff and use alts and its looks like u got some1 to paint it for u. It's keeping it real, but in an ironic way. And check it, there r ligatures with apostrophes. I mean, who does that? Nobody. It's so obscure.
And there's not one, but TWO 'ør' ligatures, so I can screenprint my love 4 Rev. Nørb on both my business hoodie AND my casual hoodie.