This list of vintage instructional lettering books is a work in progress, not yet published openly on our main site. Please keep to yourselves for now. Thanks! — S. Coles
Writing Books
16th–18th-century engraved and manuscript books devoted primarily to demonstrating elaborate calligraphy.
Writing manuals at Letterform Archive
Calligraphy at the Getty Research Institute (to edit)
Lettering Manuals
19th–20th-century instructional books on calligraphy, penmanship, lettering, show card writing, sign painting, etc.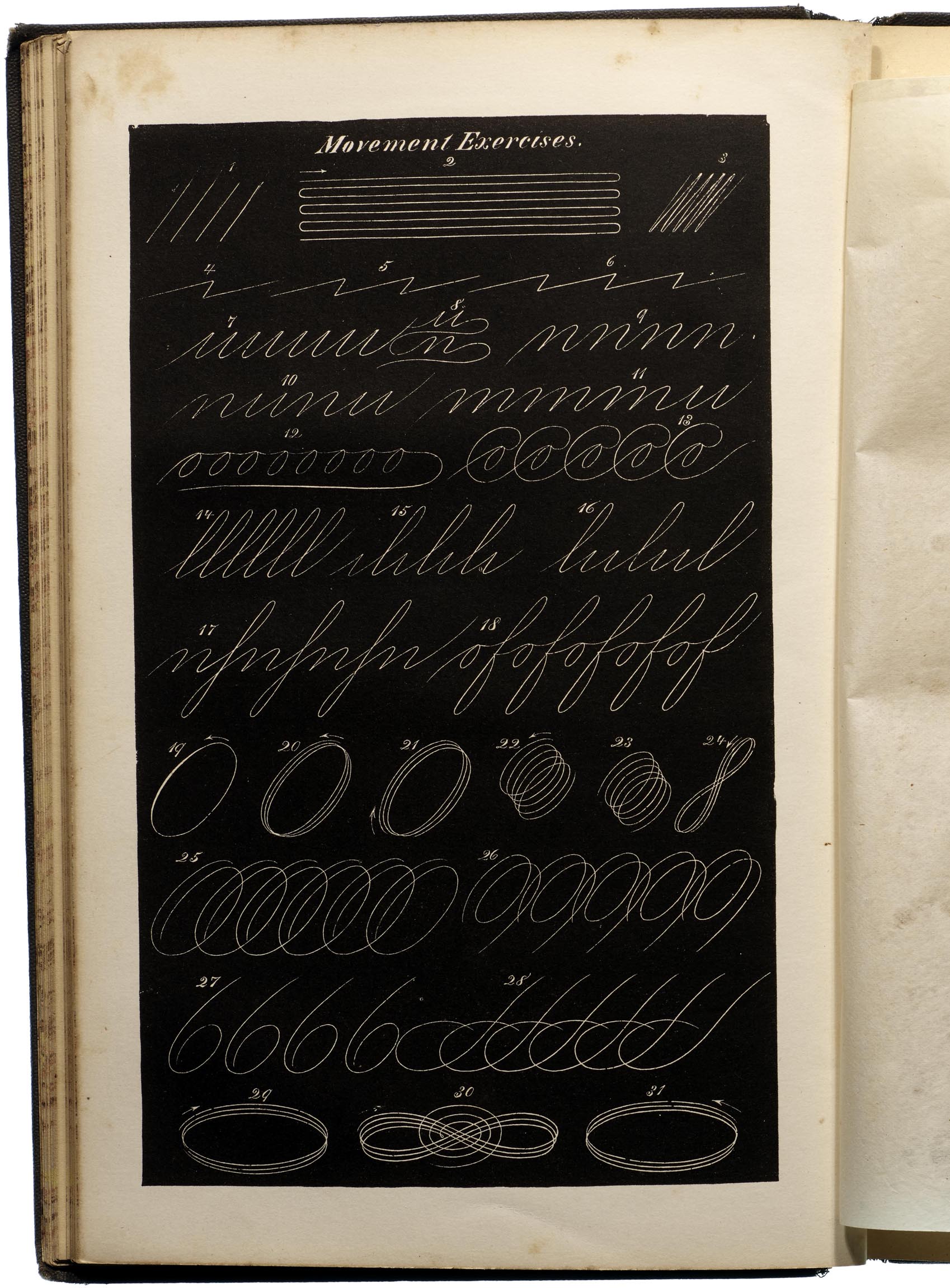 1873: Spencerian Key to Practical Penmanship
Spencer, Platt Rogers
1877: The American Sign Writer
Collins & Brooke
1878: The Art of Lettering and Sign Painter's Manual
Boyce, Allen P.
1883: The Penman's Hand-book
Gaskell, George A.
1884: Ames Guide To Self Instruction
Ames, Daniel T.
1888: The Art of Letter Painting Made Easy
Badenoch, James Greig
1888: A practical manual of house-painting, graining, marbling and sign-writing
Davidson, Ellis A.
1894: Grinnell's Hand Book on Painting
Grinnell, V. B.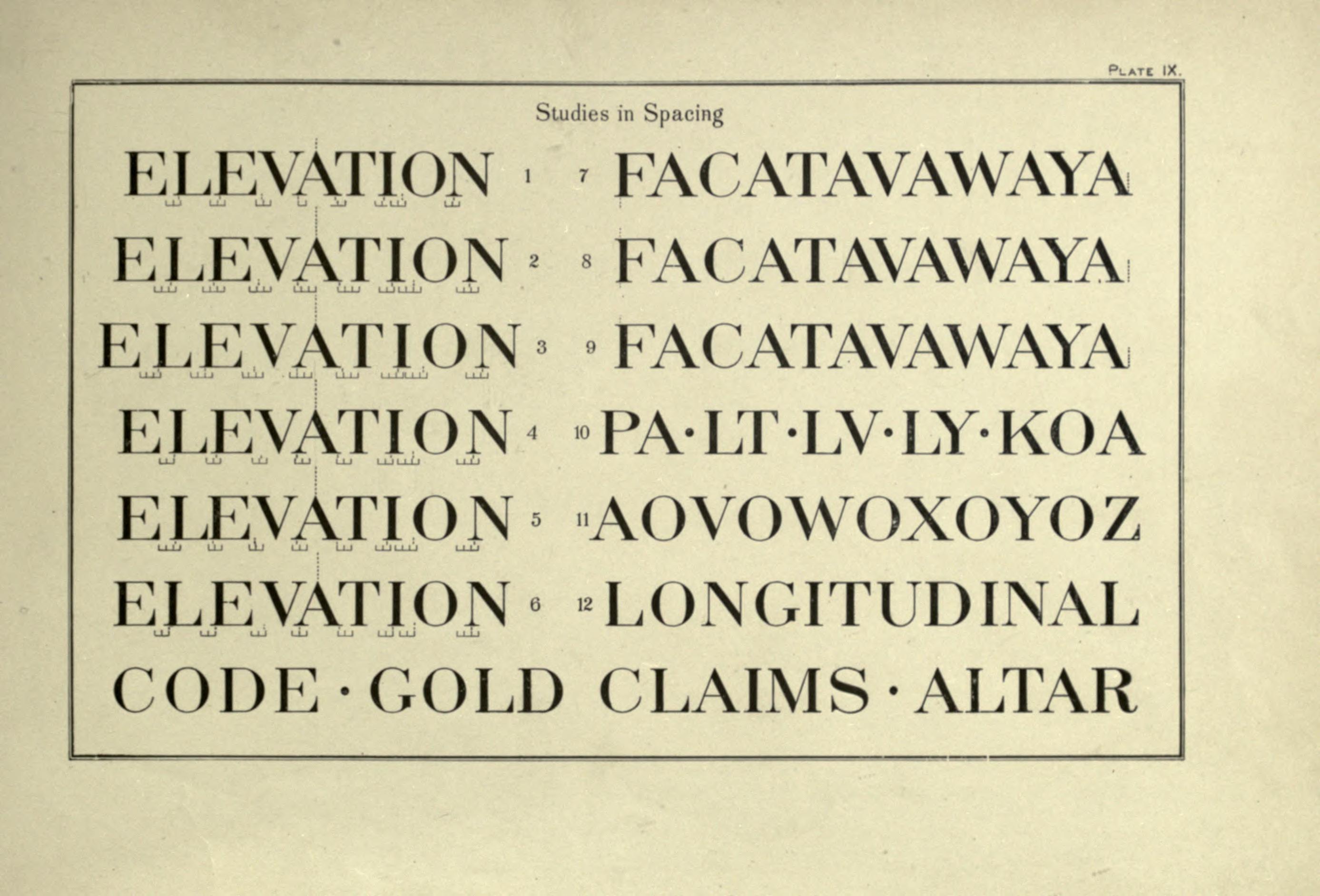 1895, 1901: A Text-book on Plain Lettering (2nd ed.)
Jacoby, Henry Sylvester
Recommended. Subjects: Map lettering.
1898: The Sign Writer and Glass Embosser (more)
Sutherland, W. & W. G.
1890: Sign Writing and Glass Embossing
Callingham, James
Recommended.
1890: Parsons' Hand-Book Of Forms: A Compendium Of Business And Social Rules And A Complete Work Of Reference And Self-Instruction
Parsons, William Franklin
Subjects: Penmanship
1899: Sign & Show Card Writing
Butterworth, Charles F.
1900: New Zanerian Alphabets
Zaner, Charles Paxton
Recommended.
1902: Letters & Lettering: A Treatise with 200 Examples
Brown, Frank Chouteau
1902: A Textbook on Lettering and Sign Painting
International Correspondence Schools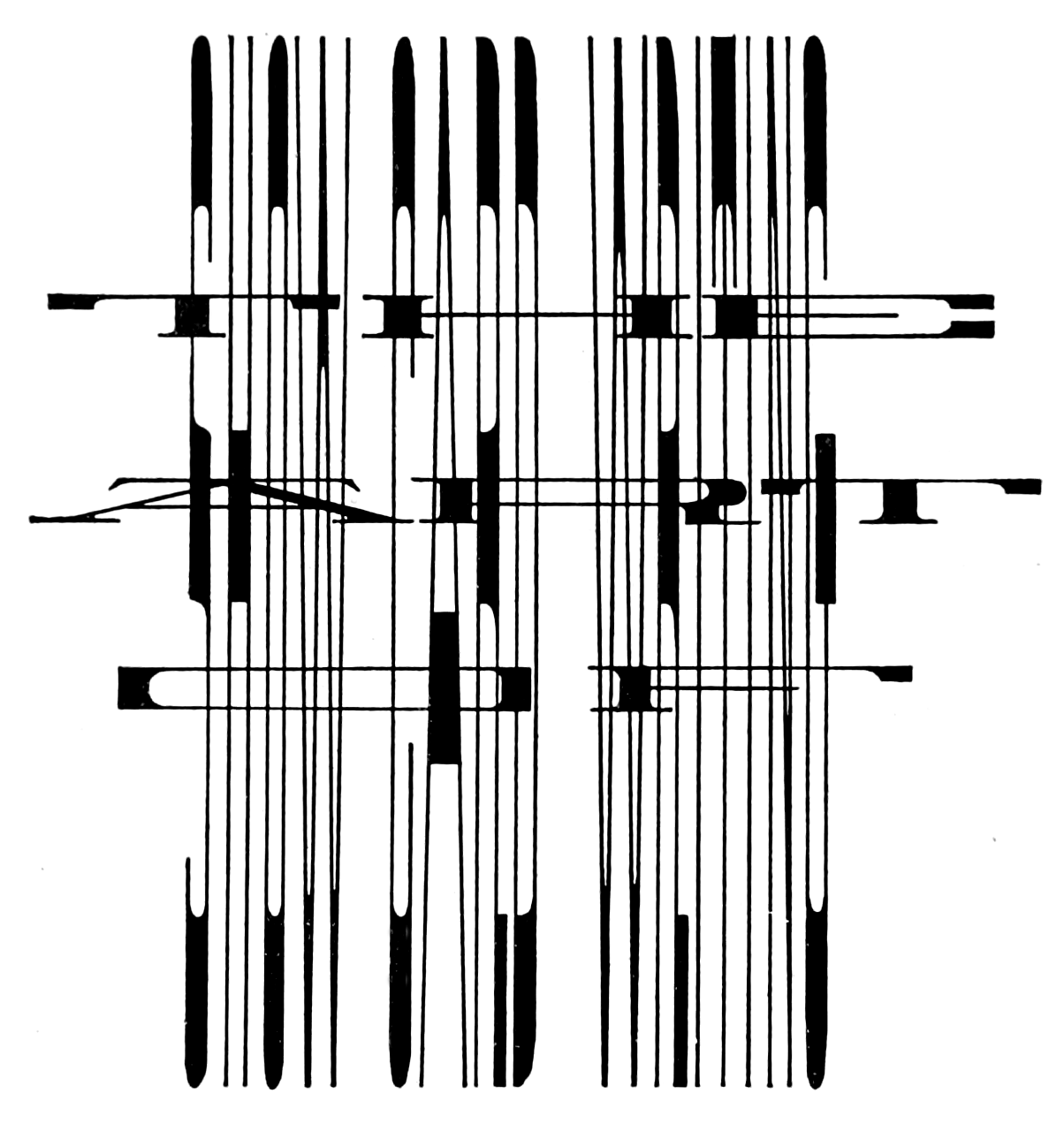 1903: A Textbook on Show-card Writing
International Correspondence Schools, Scranton
Recommended. Alternate copy. Alternate copy.
1903: Davids' Practical Letterer: Instructions in Commercial Lettering with Brush or Pen
Hackes, Sidney (compilation) and Binger, Arnold (designs)
1903, 1906: Modern Show Card Lettering, Designs and Advertising Phases (3rd ed.)
Thompson, William Alexander
1906: Writing & Illuminating & Lettering
Johnston, Edward
Recommended.
1906: Henderson's Sign Painter
Ohnimus, John G.
Recommended.
1908: The theory and practice of lettering, designed for the use of engineers and draftsmen generally… Alternate copy (fair)
Sherman, C. E.
Recommended.
1909, 1913: Atkinson Sign Painting
Atkinson, Frank
Recommended.
1909: Architectural Drawing and Lettering
Brown, Frank Chouteau (lettering section)
1909–1930: Lessons in Ornamental Penmanship
Zaner, Charles Paxton
1909, 1913 Modern Lettering
Heyny, William
1912: The Essentials of Lettering
French, Thomas Ewing and Meiklejohn, Robert
Recommended. Subjects: Map lettering ("stump letters")
1913: Instructions on Modern Show Writing
Bissell, J. G
1916: The Sign Painter
Hussey, A. R. (Pullman School of Lettering, Chicago)
c.1916: Lettering
Stevens, Thomas Wood
c.1916: How to Make Show Cards: A practical treatise for the use of retail merchants and their clerks
Miller, Charles Arthur
Alternate (fair)
1916: Standard Lettering
Standard Lettering (2nd ed., 1922)
Claflin, Roy Cleon
1918: "A Show At" Sho Cards
Atkinson, Frank H. and Atkinson, G. W.
c.1918: Alphabets and Lettering with Esterbrook Drawlet Pens
Esterbrook Pen Company
c.1918: Lettering for Commercial Purposes
Gordon, William Hugh
1919: One Hundred Alphabets for the Show Card Writer
The Merchants Record Company
1920: One Hundred Loose Leaf Lessons in Lettering with Pen and Brush
Gordon, William Hugh
1920: How to Paint Signs and Sho' Cards
Matthews, E. C.
1921: Daily's Showcard Writing System
Hurst, Albert Edwin and Nowak, Clarence Joseph
1922: Elements of Lettering
Goudy, Frederic William
1922: Principles and Practice of Show-card Writing
Blair, Lawrence E
(fair, missing images)
Alternate (poor)
1922: The Expert Sign Painter
Kelly, Albanis Ashmun
1922: Decorative Writing and Arrangement of Lettering [PDF]
Erdmann, Alfred and Braun, Adolphe A.
1922: The Art of Show Card Writing
(alternate at HathiTrust)
1928 Revised ed.
Strong, Charles J. and Strong, Lawrence J.
1924: Plain and Ornamental Lettering
Fooks, Edwin G.
1940: The Elements of Lettering
Benson, John Howard
1949: Applied Lettering & Design
Holum, Rand
1951: A basic guide to lettering
Buckley, Robert D.
1952: Lettering Art in Modern Use
Ballinger, Raymond
1954: Sign Painting Course
Matthews, E. C.
1957: Speedball Text Book (17th ed.)
George, Ross F.
Recommended.
1960: Studio Handbook: Lettering by Welo (rev. ed.)
Welo, Samuel
Recommended.
1967: The Art of Hand-lettering (for borrowing only)
Wotzkow, Helm
Recommended.
Collections of Alphabets or Lettering
Letterer showcases that contain little or no instructional material but were often used as source books for commercial artists.
1845: Recueil d'alphabets : dedié aux artistes
Blondeau, Jules
1854 (1941 reprint): Becker's Ornamental Penmanship and Draughtsman's Letter Book
Becker, George J.
1859: Examples of Modern Alphabets
Delamotte, Freeman
1863: The Book of Ornamental Alphabets, 5th ed.
(1914: 16th ed.)
Delamotte, Freeman
1877: A Set of Alphabets
Copley, Frederick S
1877: Draughtsman's Alphabets: A Series of Plain and Ornamental Alphabets…
Esser, Hermann
1880: Muster-Alphabete : verschiedener Schriftarten in den neuesten Formen
Bauer, R. (publisher)
1884: An Encyclopaedia of Monograms
O'Kane, James
1897: Initialen, Alphabete und Randleisten
Hrachowina, Carl
1897: Собрание шрифтов
Маймистов, М.
1903: Nouvel Album de Lettres Peintes
Fleury, Paul
Recommended.
1912 (1908, 1st ed.): Art Monograms and Lettering (5th ed.)
alternate
Bergling, J. M.
1914: Art Alphabets and Lettering
Recommended.
Bergling, J. M.
1915: Presenting the Speed-ball Pen
George, Ross F. and Gordon, W. H.
1917: Strong's Book of Designs
Strong, Charles Jay
Recommended.
Sign Painters' Portfolios
Collections of chromolithographic prints, often loose leaf, produced by sign artists or companies.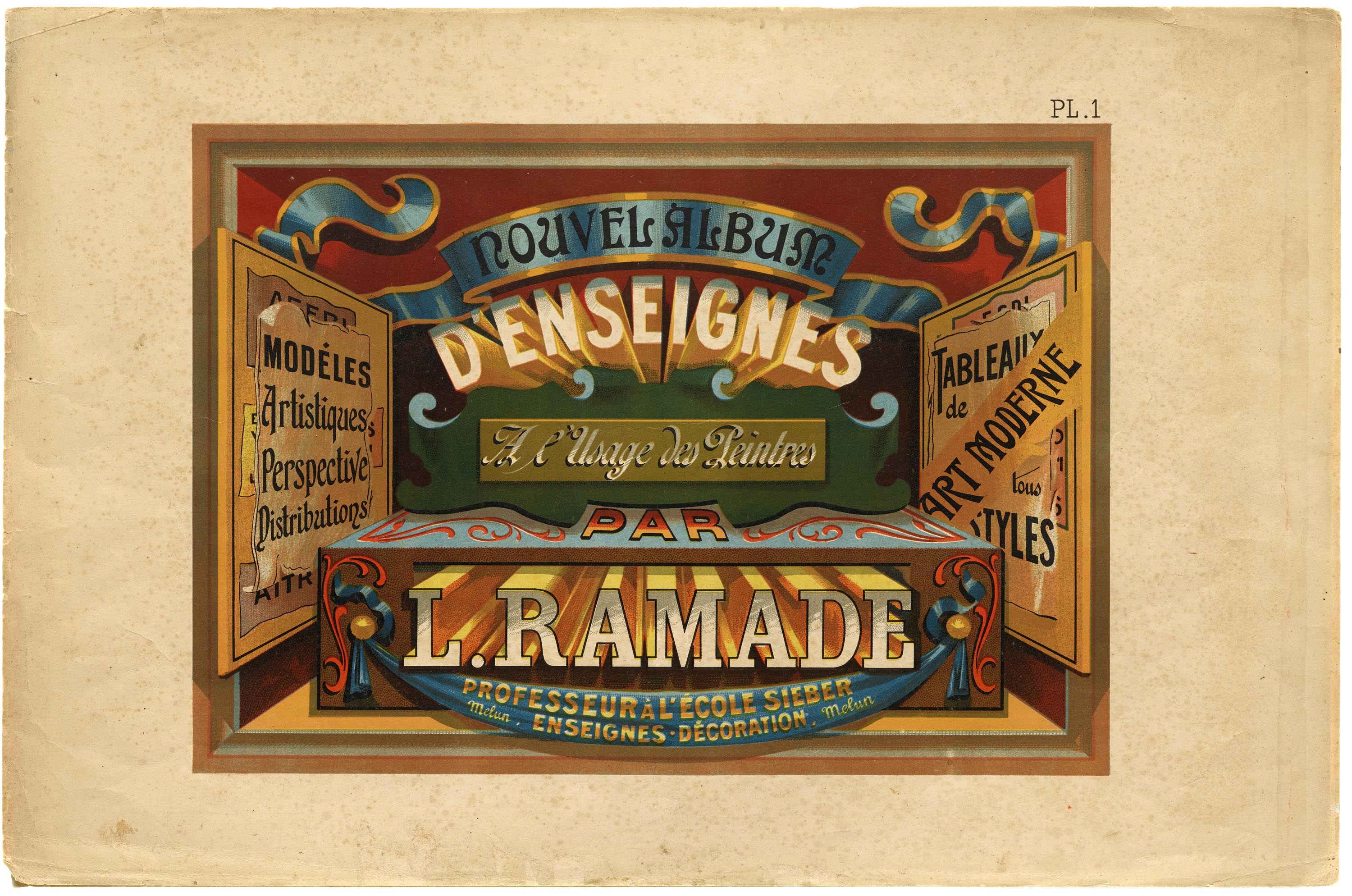 1890: D'Enseignes Décoratives á l'Usage des Peintes
Ramade, Louis
Recommended.
1898: The Sign Writer and Glass Embosser (more)
Sutherland, W. & W. G.
Recommended.
1903: Nouvel Album de Lettres Peintes
Fleury, Paul
Recommended.
1914: Attributs au pochoir : Modèles d'enseignes et inscriptions
Recommended.
Bilard, Raymond (Editor)
Lettering Periodicals
1878–1919: Penman's Art Journal
1881–1887: Penman's Gazette
1886–1908: American Penman
1887–1888: The Pen-Art Herald
1895–1903: The Zanerian Exponent and The Penman and Artist / The Penman and Artist / The Penman-Artist
1909: Modern Painter, Vol. 18
General Typography & Layout
1917: The Art & Practice of Typography
Gress, Edmund Geiger
1932: Showcard Lay-out and Design
Bond, Edgar
Still to list:
https://archive.org/details/alphabetsoldnew00dayl
https://archive.org/details/alphabetsoldnewf00dayl
https://archive.org/details/alphabetsoldnewf00dayluoft
https://archive.org/search.php?query=publisher%3A%22%5BLeipzig+%3A+R.+Bauer%5D%22
http://onlinebooks.library.upenn.edu/webbin/book/browse?type=lcsubc&key=Lettering&c=x
https://impallari.com/books/
Scott Boms scans
Other Resources: