In 1928, Vincent Steer, the self-described "advertising typographer" behind the book Printing Design and Layout (1934), established the International Society of Typographic Designers (ISTD) in the UK. Steer's aim was "to bring together in friendship and mutual help, all those with a love of the printed word". From these guild-like beginnings, the ISTD has evolved to wield a growing international influence, gaining recognition (as its tagline notes) for "setting and promoting typographic standards worldwide". The society exists for — and is run for and by — typographers, graphic designers, and educators, who share and support its goal of creating and inspiring interest in all forms of typographic communication.
Ultimately, the society proposes to create what Etienne and Beverly Wenger-Trayner describe as a "community of practice" around typographic design. It does this through a rigorous, peer-reviewed membership model wherein interested applicants submit a portfolio of work for review by the Society's board. Membership in the society indicates a level of typographic skill and creates an affiliation that means more than just a desire to be part of a community. In this way, the ISTD recognizes dedication to craft; membership serves as a credential as much as an affiliation. This member-driven community includes noteworthy typographers, graphic designers, type designers, and educators like Astrid Stavro (Atlas), Freda Sack (Foundry Type), Allan Haley (Monotype), Ivan Chermayeff (Chermayeff, Geismar & Haviv), and Paul Woods (Edenspiekermann LA). A glance through ISTD's membership list reveals acclaimed typographic exponents and practitioners alongside emerging and early-career talents.
This integrated ethos lies at the heart of the ISTD's scope of work, which strives to bridge industry and education. To this end, the organization's Annual Student Assessment Scheme accepts submissions in and from institutions around the world for evaluation against the Society's standards of excellence. Students who wish to enter must complete typographic projects based on a selection of briefs written and distributed by the ISTD Education Team. If successful, the students are awarded membership to the society, and their work is showcased on an international stage through the ISTD's annual publication(s) and website.
In this way, the Society provides a platform for young typographers to offer their work up for critique and to enter a contemporary conversation with pillars of the international typographic community as peers. The structure of the assessment pairs educators and practitioners as teams to evaluate, critique, and collaboratively provide written feedback on the students' work. Membership is awarded with a Pass, Merit, or Commendation to those whose work meets the Society's standards. This creates an active dialogue between education and industry, forging connections that can influence pedagogical strategy, provide pathways for interdisciplinary and inter-institutional collaborations, and positively impact student placement after graduation.
Students make decisions based on a strategic communication goal. Thus content, rather than form, shapes their approach to authoring messages typographically.
For educators, running the ISTD briefs in the classroom provides a pedagogical toolkit that can enhance or supplement the typical curriculum structure. ISTD Education Director John Paul Dowling has stated that the goal of the student assessments is "to give both tutors and students the opportunity to explore and develop typography as an inherent part of the design process and thus bring the typographic gesture to the forefront of their design education". The briefs work well in an advanced typographic curriculum and make excellent capstone projects and individual investigations. They do this by prompting research-through-making, and asking the students to use their typographic skills as a means of expression and translation. Through gathering content and creating narrative structures, and letting these things guide the choice and implementation of a given medium as a tool, students make decisions based on a strategic communication goal. Thus content, rather than form, shapes their approach to authoring messages typographically.
For students, the briefs provide an opportunity to flex their typographic muscle and utilize it in the service of a topic that interests them. The assessment puts their work on an international stage, in the hands of excellent designers and informed educators, opening doors for internships, placements, and future academic pursuits. Projects that achieve passing marks are of the highest caliber and make stunning portfolio pieces.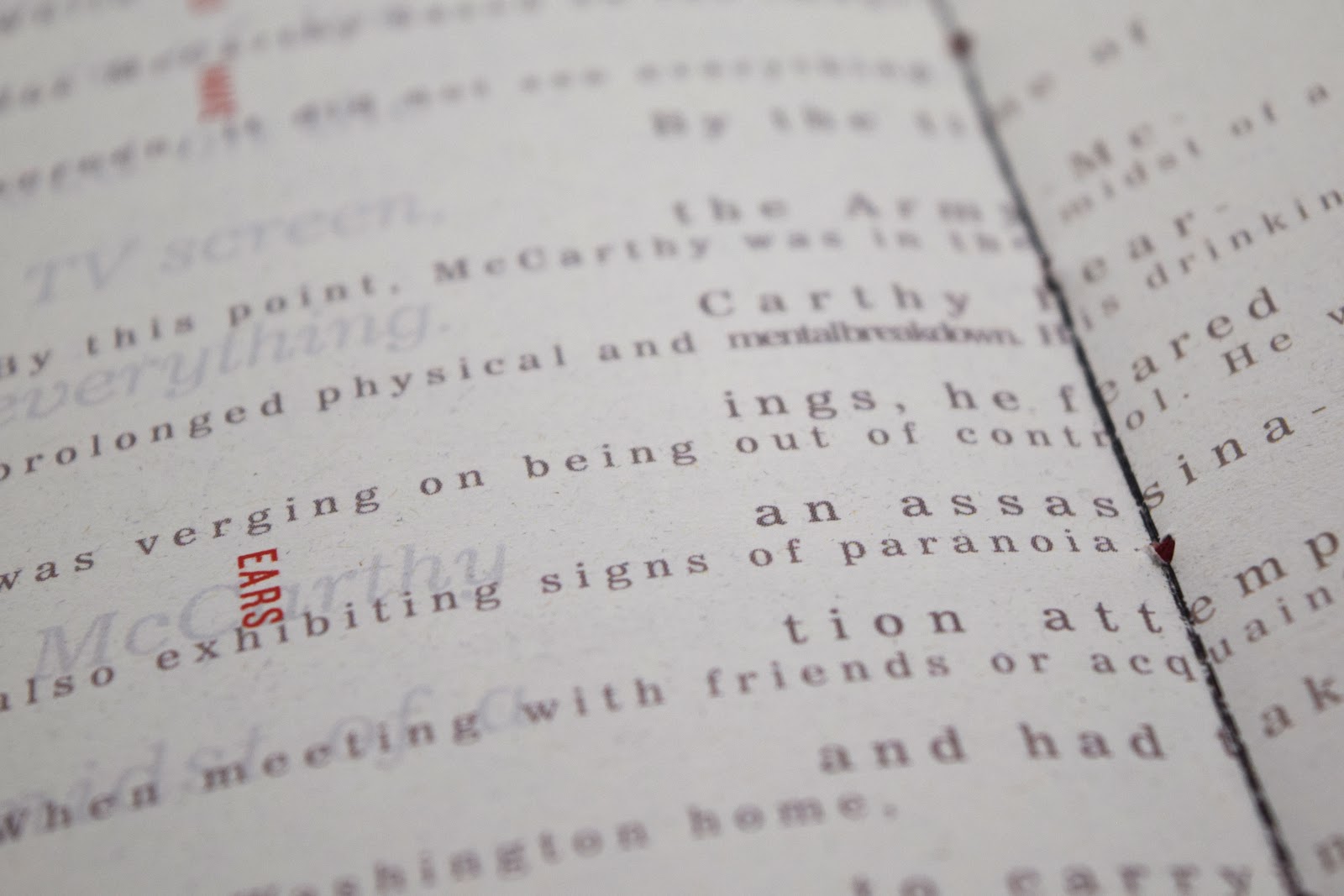 In Age of Anxiety, Kent State Visual Communication Design (VCD) senior Emily Thomas explored McCarthyism in response to a brief asking for a typographic interpretation and exploration of a "fad" — a short-lived but pervasive zeitgeist. Gathering content from a range of sources, Thomas organized the piece into a series of booklets, each typographically representing the creeping infiltration of fear fueled by this sociopolitical mechanism through a range of typographic techniques, binding styles, color choices, and paper stocks. After compiling everything into a pocket that demonstrated the lock-and-key nature of the concept, Thomas invited readers to tear open the "book". Thomas was awarded membership to the Society for this submission, with a Pass.
In a digital reinterpretation of "We Real Cool" by poet Gwendolyn Brooks, Kent State VCD MFA student Alex Catanese responded to a brief written in partnership with Editions At Play — an initiative from Visual Editions and Google's Creative Lab. The brief asked students to "choose a chapter from a banned book and visually interpret it as a digitally dynamic book", paying attention to "the potential of the digital form". The interface Catanese designed questions why one interpretation should ever overpower another, instead considering multiple perspectives on "We Real Cool" within a digital medium.
"Through the interface, a story is revealed in the same way a person might tell one, offering loose connections, and multimodal forms such as audio, motion, video, or text," Catanese said. "The typography serves an expressive yet functional purpose, acting to represent various 'voices', opinions, and interpretations, and playing on the linguistic aspects of the spoken word". Catanese was granted membership to the Society; his work was awarded a Commendation.
The first North American ISTD Annual Student Assessment was hosted at Kent State in February of 2017. Beginning with a welcome statement from current ISTD Education Director, John Paul Dowling, the ISTD's international presence was expanded. "When I was appointed Education Director", Dowling said, "one of my key goals was to make the Student Assessment Scheme as international as the society's membership. Adding North America to the existing regions [Australasia, Ireland, the Middle East, South Africa, and the UK] has gone a long way in achieving this".
We encourage educators around North America to consider taking part by incorporating the ISTD Student Assessment briefs into their typographic curricula for Fall 2017/Spring 2018. The briefs for the 2017 scheme will be available online on October 1, with the assessment planned for April 13, 2018. Requests for resources or further information should be directed to Aoife Mooney (ISTD North America Coordinator); more information about the Society and Assessment Scheme can be found online.