"How do you know you should start a blog? Because people keep telling you to shut up. You just won't shut up about a subject." — Merlin Mann, SXSW Interactive 2009
"Obsession times voice" is what luminary bloggers Merlin Mann and John Gruber offer as a simple formula for successful writing. It's exactly these qualities that Joshua Lurie-Terrell hurled at the burgeoning bloggernet on May 1, 2002 when he opened an account on blogspot.com and called it Typographica. I asked JLT to recount those olden days:
Back when blogs were a "new thing", I wanted to experiment with this new mode of publishing. I didn't have much to say about my personal life — and I still don't — but I was interested in meeting other folks who shared my primary interests: letterpress printing, typography, and the Arts & Crafts design aesthetic. Thus, Typographica was born. Being that there was a bit of a void in the medium for the first two subjects1 — there were mailing lists and a few newsgroups, but nothing really accessible — it quickly became much more popular than I had expected, and even more quickly put me in touch with dozens of interesting people working in these fields, many of whom have become good friends.
In his carefree, gung-ho way, JLT liberally bestowed author accounts on those he respected in the realm of typography and encouraged them to post whatever they wanted on the site. News and discussion sparked quickly. Smart, opinionated folks from all corners of the type world contributed to what became an bustling throng of obsessive voices.
The site design, a judiciously modified Blogger template, was hardly touched for nearly seven years. Georgia, Verdana, blue, orange, and the rotating nameplate served the site remarkably well through many internet-wide design phases, from Web 1.5 to 2.0. In fact, Typographica trudged ahead at a steady pace for most of its lifespan, aside from a minor bump in the Canadian highway.
But sometime in 2006 site activity slowed to a cold maple syrup drip. JLT had moved on to his other ventures, most notably Hewn & Hammered. And I somehow landed in a desk at FontShop in San Francisco, where writing about type and playing with fonts became a full-time gig.
It wasn't just that our attention was diverted — other type bloggers took the reins and did it better, more beautifully and comprehensively, with more brains, more fervor, and more expertise. And, of course, there's really no reason to go anywhere else to discuss type with knowledgeable peers than Typophile.
This new typoblogosphere calls for a new Typographica. It's clear that what the type world needs now is not another blog. No, what's missing is what keeps readers coming back to the site every year, despite our relative silence: informed reviews. The accessibility of type design tools and distribution is yielding hundreds of new font releases every month. Most of them are rubbish. Some of them are good. And a select few are worthy of your money (or your client's). Our annual Favorites are dedicated to that last group. And now, thanks to a new website facilitated by the WordPress wizardry and design dexterity of Chris Hamamoto, Typographica has a new mission as a vehicle for typeface recommendations and reviews.
The move is still underway — some of the legacy odds and ends are missing or malformed. So until we feel comfortable in our new home, the original location will remain open. But all new content will live here. We hope you enjoy the new format and welcome your comments (as long as your name isn't Joe Clark2).
A final word from our founder:
I'm especially glad that Typographica found its real focus — the art, craft, and business of typography and type design — and that Stephen Coles was the one who was there to pick up and run with it. He has become one of my closest friends, and it would never have been as successful as it has been without him.
Thank you, JLT. We'll do our best to stay obsessed.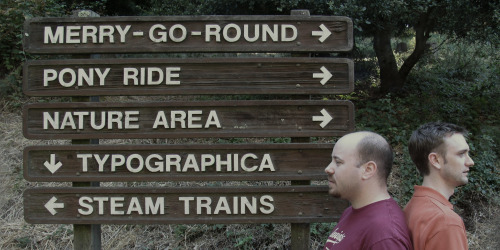 Joshua Lurie-Terrell and Stephen Coles at a crossroads. Photo courtesy Adam Twardoch.
Special thanks to the brilliant Matthew Bardram and Patric King for their assistance in the early years; to Graham Hicks for crafting a beautiful blog design that never saw the light of day due to my change of plans; to Nick Sherman for his deceptively simple favicon and for tying up a lot of loose ends this week; to Chris for his countless hours and endless patience with my waffling and tweaking; and to all the contributors whose writing and camaraderie made this journey such a joy from the beginning — your accounts are still open.
1. Notable exceptions were Lines & Splines (lost to the abyss) and Typographer.org (still kickin'), but both were single-author blogs.
2. This is a joke.
Hear more about Typographica's early history from Joshua and myself on Typeradio, recorded at TypeCon San Francisco in July 2004.